Sound Advice. Proven Results
At Santa Fe Mortgage Company we specialize in complex loans.
We believe that everyone deserves and should demand
equal opportunity and courteous, professional service.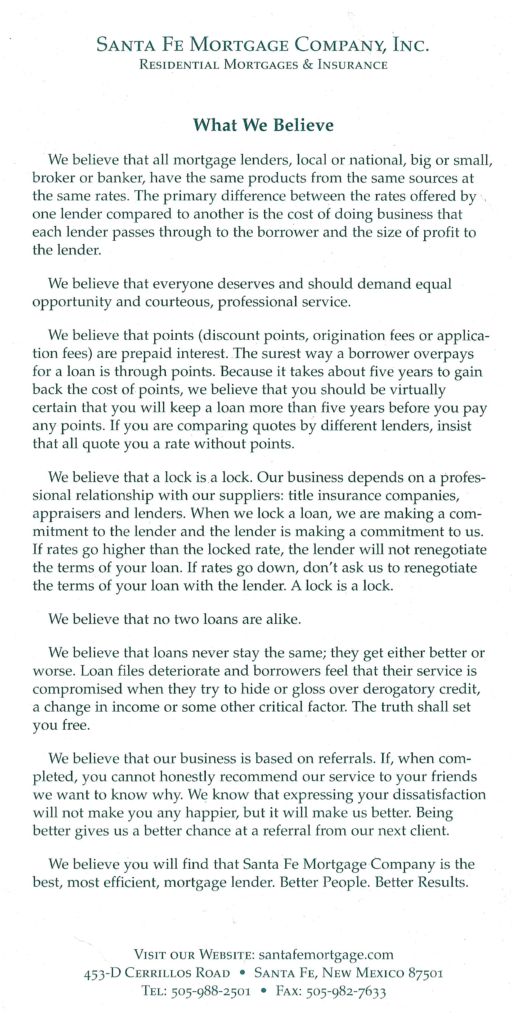 Santa Fe Mortgage Company, NMLS #194320, is a licensed professional mortgage broker based in Santa Fe and serving clients in all of New Mexico, Colorado & California. Established in 1993, Santa Fe Mortgage has seen the passing of the Savings & Loan industry, the Dot-Com Bubble, the 2008 Financial Crisis, and the recent COVID Pandemic, all the while serving our clients with efficient, personal service financing the most important investment in their lives – their home.
In about 1996 Santa Fe Mortgage published the card on the left side of this page to include with loan documents that we provided to our clients – the documents that now are generally provided and acknowledged via email and e-signatures. Santa Fe Mortgage was 3 – 4 years. What strikes us now, is how nearly 30 years later, not much has changed. At the time we didn't realize we were producing our manifesto or "North Star," we really just wanted our clients to know what we thought.

In hindsight now, with few exceptions, "What We Believe" was our North Star. Almost everything written there is still true. We've always believed in equal opportunity – in life and in buying your home. We know that no two loans – like no two people, are alike. Personal service matters. Our business is
still based on referrals.

There are a couple of points that have changed a little over time. For one, some wholesale lenders offer rate improvements after a loan is locked when rates change for the better by a substantial amount. Rates have to change by more than .125 or .250 depending on the wholesale lender, but a locked rate can, at times, be improved for the borrowers' betterment and for the lender to retain the client in whom they've invested time and resources.

The second point of change is with discount points. In 1996 rates were much more linear in the sense that one discount point almost always equaled an improvement to the rate on a 30 year fixed loan of .250. More simply, on a $100,000 loan, if a borrower paid one discount point ($1000) their rate would improve from 7.75% to 7.25%. And probably, if they paid two points the rate would go down to 7.00%. That's no longer the case. There are times and markets where less than a half point can change a rate significantly and times where a full point matters little. Honesty and clarity between a mortgage broker and their client is everything.
As a licensed mortgage broker, Santa Fe Mortgage enjoys a one-on-one relationship with our clients. Our greatest sense of satisfaction is witnessing our clients' excitement – and perhaps relief – at their loan closing when the dream home is theirs or the refinance is secured. Every mortgage lender, big or small, independent or under the umbrella of a large national bank, has to work under the underwriting rules and guidelines from Fannie Mae and Freddie Mac. But only a licensed, professional mortgage broker like Santa Fe Mortgage has the latitude to set our own culture – a culture that puts our clients' hopes, needs and expectations first.